Dr. Danny H. Y. Li
Designer of LYONAEEC ® Planes
Dr. Danny H. Y. Li has had a great longing for flying since he was a child, he graduated from Beijing University of Aeronautics and Astronautics (BUAA) in 1994 and received a Doctor of Engineering degree with a major in airplane design and applied mechanics. As a explorer of science & technology, Dr. Li has long engaged in science research and technology innovation. He has created about two hundred patents of technical innovation including frontier physics, biomimicry technology, innovative flying methods and popular aviation science & education.
Dr. Li used to be a test pilot, he had piloted different kinds of airplanes, helicopters and gyroplanes. He had twice escaped from airplane crash during his test flight career. In 1989, he and his friends had flied across the China by hyper-light planes that set the world record for the long-distance formation flight. In addition, Dr. Li has created Transformable Airship, "Near Space Pioneer" micro lab, composite-wing solar plane and other new concept aircrafts.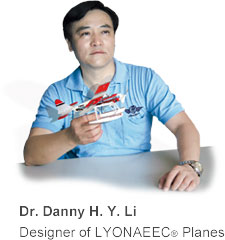 Dr. Li respects the science, advocates creating and promotes aviation education. He had made two TV Series that are the first TV Series in China for popular science on aviation, he had also held many model plane competitions.
In 1989, Dr. Li created LYONAEEC ® Planes, by now, there are over 1,600 types of LYONAEEC ® Planes, which sold around the world and are very popular.
LYONAEEC ® Planes, designed by Dr. Li, connect Dr. Li with the aviation enthusiasts, and spread the joy of flying.